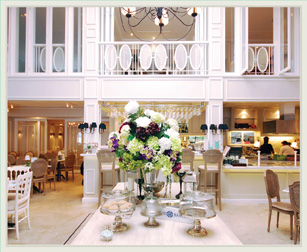 From grandma's secret recipes to fine dining dishes with sophisticate culinary skills, these are what served almost daily at home on the family table of Janista Charoonsmith the founder of Audrey Group. Her particular desire and joy to create new dishes from her dining experience onto the family table. The precious moments of joy in any occasions, whether it's a birthday or casual family gathering. When passion turned into devotion, a visionary Janista imagined a place with the ambiance of her inspiring interior & architecture particularly French contemporary.
Audrey Café & Bistro originated
the 1st branch in Thonglor Soi 11,

a warm and cozy lifestyle neighborhood. A venue where friends & families spent the memorable experience along with wide range of twisted Thai comfort food to sophisticated European dishes that you always have to revisit.